Online Divorce
in Maryland
Simple process to get divorce papers online
Affordable pricing plans with no hidden fees
Unlimited changes to forms and free revisions
Divorce papers ready to download in two business days
Step-by-step filing instructions
Award-winning tech support for all customers
Divorce in Maryland is quick and easy
Divorce Online in Maryland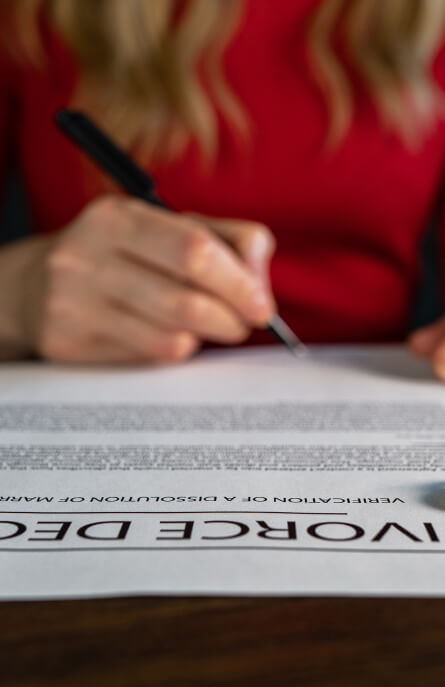 Maryland Online Divorce provides a low-cost, convenient tool to prepare for the filing process. Using this website, you can save yourself the hassle of selecting and filling out all the necessary papers and documents, as well as the need to spend money on lawyers.
Although online divorce services do not provide legal advice and cannot be recommended in contested divorces, they are very useful in the case of a divorce based on mutual consent.
Each divorce requires proper paperwork, no matter how simple it is, and even a minor mistake in court forms may lead to the case rejection. To avoid such problems, the divorcing spouses can take advantage of the following Maryland Online Divorce benefits:
Manage your time efficiently, as you do not have to arrange your schedule to fit your lawyer's one;
Complete your divorce forms using a simple step-by-step online questionnaire so you do not miss any required documents;
Move at your own pace, going back and making unlimited changes in your files if needed;
Work with the questionnaire whenever and wherever is comfortable for you. All that you need is your laptop or smartphone;
Your unique divorce forms will be available in your account within only two business days after providing all the necessary information about your marriage;
And finally, online divorce is one of the cheapest options to prepare your divorce application and other documents. Maryland Online Divorce services cost just $139, regardless of whether the spouses have children or property. The only requirement is that both parties agree to an uncontested divorce.
Compare Your Options for Filing for Divorce in Maryland
Divorce With a Lawyer
Traditional litigated divorce where each spouse has a lawyer who represents them before the court:
The most expensive type of divorce proceedings
Court battles inflict the most emotional damage on both spouses and their children
A contested divorce takes the longest time, and it is difficult to predict its timeframe in advance
The need to tailor your schedule to fit the lawyer's working hours and necessary court hearings
Maryland Divorce Online
Fast, cheap, and easy solution focused on uncontested divorces:
Easy-to-follow online paperwork preparation process, without leaving home
Available for all couples seeking an uncontested divorce
The best price for the preparation of divorce papers, just $139 with no hidden fees
Ready-to-file divorce forms in only two business days
Comprehensive assistance in filling out 
the relevant court-approved divorce forms
DIY divorce
A "pure" DIY divorce without an attorney or the help of an online divorce service:
High risks of completing paperwork incorrectly, which may lead to the case rejection
This approach may not save you much money in the long run
Legal paperwork is complicated so the process can take a long time
Refusing any legal assistance can lead to 
a contested divorce
Here's how our process works.
Looks complicated?
Get your hassle-free divorce
Provide your case details
2
File for Divorce Online in Maryland Without a Lawyer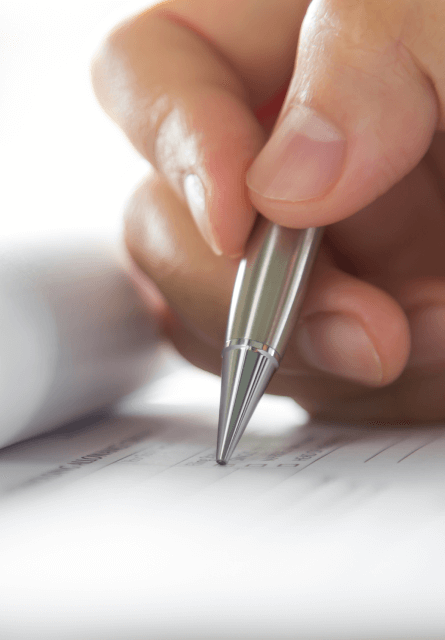 As long as the parties can agree to the terms of their divorce, divorces can be conducted without lawyers involved. In such a case, the spouses can either prepare all the needed divorce forms independently or use Maryland Online Divorce to make this process more straightforward and hassle-free.
This online divorce service allows receiving your full divorce packet in only two business days for just $139.
However, completing all the further steps of the divorce procedure is the spouses' responsibility if they arrange a DIY divorce.
Thus, to start the divorce, the plaintiff must pay filing fees. It is worth contacting the local Court Clerk's office to know the exact amount and form of payment accepted, but the average filing fee in Maryland is about $165.
Then, the plaintiff must make at least two copies of all forms and file their completed and signed Complaint for Absolute Divorce and other initial divorce papers with the appropriate Circuit Court.
The clerk provides the plaintiff with a case number, which must then be written on each of the copies.
That is how to complete the initial divorce filing process without an attorney. For more information, self-represented litigants may use General Instructions (Form CC-DRIN).
Do-It-Yourself Divorce in Maryland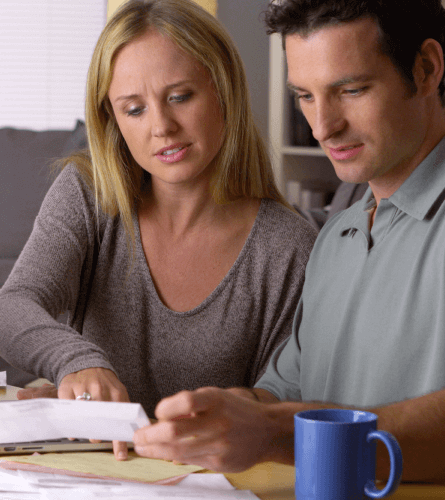 Although do-it-yourself divorce is not generally advisable for contested cases, couples who do not have remaining disagreements regarding the basic divorce issues can get a divorce without a lawyer.
Generally, such a DIY divorce involves the same steps as a legally assisted process:
1. Complete the initial divorce forms:
Complaint for Absolute Divorce
Civil Domestic Information Report
Financial Statement (Child Support Guidelines)
Financial Statement (General)
Joint Statement of the Parties Concerning Marital and Non-Marital Property
Marital Settlement Agreement
2. File for divorce
The plaintiff needs to file the above papers in the Circuit Court in the county where either spouse currently resides. Besides, the plaintiff must pay court fees at the time they file papers.
3. Serve the divorce papers
When the case is filed, the plaintiff must serve the other spouse (the defendant) with copies of the Complaint, the Writ of Summons, and other documents to notify them about the lawsuit.
In the state of Maryland, the following ways of serving divorce papers are available:
by any adult who is not a party to the case;
by the county sheriff's service;
by a private process server.
Whoever serves the defendant must file the proof of service (Affidavit of Service form) with 
the Court Clerk before the case can proceed.
4. Once served with divorce papers,
the defendant has 30 days to file an answer. However, if the defendant lives in another state, this period is prolonged up to 60 days. Filing the Answer to Divorce Complaint form allows the defendant to agree or disagree with the provisions contained in the Complaint.
5. Maryland Family Law
does not require any waiting period before a dissolution of marriage can be finalized. Thus, the court can generally schedule a final hearing right after receiving the defendant's response.
An uncontested divorce hearing is a fairly simple procedure. The judge reviews the submitted divorce forms and asks questions related to the content of the Complaint and the couple's Settlement Agreement. If the agreement is fair and everything is completed correctly, the judge can sign a divorce decree (Judgment of Absolute Divorce).
All Required Maryland State Forms.
Maryland-Specific Court Filing Instructions.
Unlimited Revisions for as long as your account is active.
Getting a Divorce With Children in Maryland
If the divorcing spouses have minor children, they can agree on the terms of custody, visitation rights, child support, and other child-related issues out of court. Otherwise, Maryland courts decide custody based on the child's best interest and after considering multiple factors of 
a particular divorce case.
Whether decided by the parents themselves or the judge, child custody includes legal and physical custody.
Legal custody determines each parent's decision-making power regarding the essential matters of a child's life and upbringing.
Physical custody determines where a child lives and who takes care of a child on a daily basis.
Both legal and physical custody may be sole or joint, i.e., shared between the spouses.
Joint physical custody applies when the time a child spends with each parent is shared precisely in half but not necessary (typically, more than 35% of the year, or at least 127 overnights).
Besides, the court can order divorcing parents of minors to take Parenting Class, 
an educational program designed to help the ex-spouses reduce the impact of divorce on their children.
As for child support, it must be determined following the Maryland Child Support Guidelines in most cases. An exact amount of child support is calculated based on the Income Shares Model, which considers the relevant factors, including the number of minor children, parents' income, health insurance costs, and extraordinary medical expenses.
Residency Requirements in MD
To apply for divorce in Maryland, a couple must meet the state residency requirements.
According to the Maryland Family Law, if the ground for divorce occurred within the state, either spouse must currently reside in Maryland to start legal action.
If the ground for divorce occurred outside of Maryland, either spouse must have resided in the state for at least six months before filing.
How Long Does It Take to Get a Divorce in Maryland?
On average, once the required divorce forms are filed with the court, an uncontested divorce takes two to three months, while a contested divorce can take more than a year.
The length of a particular divorce process varies depending on how quickly the spouses can complete all the relevant divorce forms, accomplish service of process, etc. In addition, the caseload of the court and the availability of judges can also affect the time needed to finalize an uncontested divorce.
Customer Testimonials
Karrie S.
Baltimore County
I found the filing process to be easy enough. Filing online saved me lots of time. I will definitely recommend this service to anyone considering divorce and who would like to save time.
Staff was extremely helpful & thorough explaining the process.
After a long and dragged out decision, MD Online Divorce made everything easy. All questions were simple and to the point. If you have an uncontested divorce, this is definitely the way to go.
The paperwork was so simple and easy to do , worth the money. They answered all my questions I had by phone call and email. This is just the beginning of my process to get my Divorce hope everything goes this smooth.
Natasha M.
Prince George County
I was terrified thinking that this would be difficult but it really wasn't. And they offer assistance that you need to make everything go smooth.
The process was seamless. I am happy that they offer the Platinum service after allowing me to see the basic services. I appreciated being able to make an educated decision.
I was confused trying to do my paperwork by myself. I found the website and the process was so easy, and a representative will talk you through each step of the way
Christal R.
Baltimore City
MD Divorce was super fast and efficient in preparing all of the necessary paperwork. I highly recommend their assistance in making a complicating process...EASY.
The process was easy and I felt confident that everything was being done professionally and in a timely manner.
Frequently Asked Questions
How to file for an uncontested divorce in Maryland?
If the spouses can reach an agreement concerning the essential terms of their divorce, like child custody, property division, alimony, etc., out of court, they can avoid litigation and file for an uncontested divorce or a simplified non-adversarial divorce.
How much does a divorce cost in Maryland?
The cost of divorce in Maryland depends on complexity. Uncontested DIY divorces start from $165. It's a filing fee for initiating a divorce without a lawyer. On the other hand, contested cases also include lawyer's fees that may reach $11,000.
How to get a free divorce in Maryland?
You can get a free divorce in Maryland if you prove your difficult financial situation. In this case, you can submit a Motion to Proceed in Forma Pauperis to the circuit court and provide information about your income and assets in a separate affidavit.
How to get divorce papers in Maryland?
You can get divorce papers in Maryland from the clerk's office of the local circuit court or download them from the Maryland Judiciary website. Another more convenient option is to use online divorce services and obtain fully completed papers ready to be filed with the court.
Where do I go to file for an uncontested divorce in Maryland?
You must file your uncontested divorce with the Maryland Circuit Court. You should choose the court in the county where you or your spouse lives. Take the divorce papers and the money to cover the filing fee and give them to the court clerk.
What are the grounds for divorce in Maryland?
Maryland family laws allow both fault-based and no-fault grounds for divorce. One no-fault reason is a voluntary separation for 12 months before filing for divorce. Fault grounds include adultery, desertion, a felony conviction, insanity, and cruel treatment.
How is property divided in a Maryland Divorce?
The property acquired by the spouses during their marriage in a Maryland divorce is divided based on the equitable distribution principle. Consequently, the court will divide marital property in a way that is fair between the spouses. The separate property of each spouse will stay with its original owner.